AEF Highlights at COP27: Implementing the Africa-Europe Climate Partnership
The Africa-Europe Foundation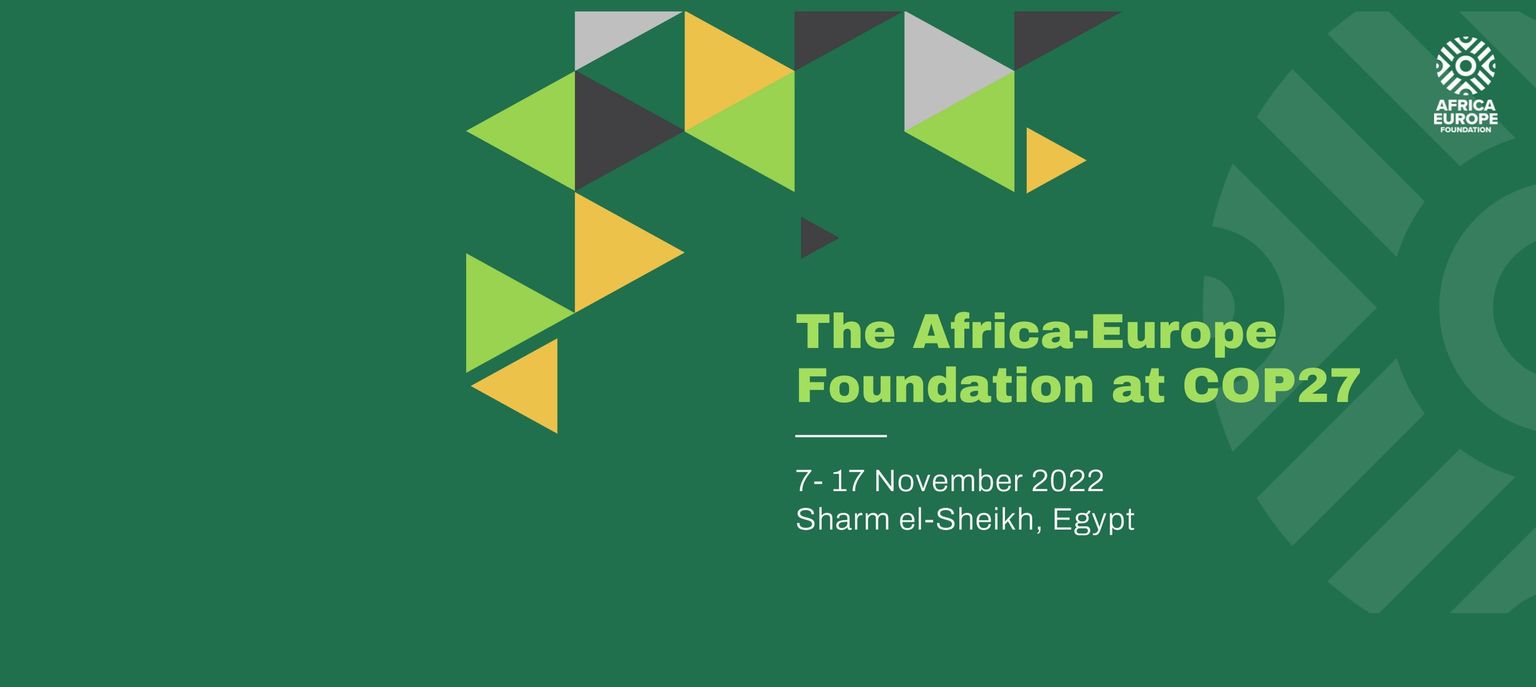 The 2022 United Nations Climate Change Conference or Conference of the Parties of the UNFCCC commonly referred to as COP, drew its 27th edition to a close in the early hours of Sunday, 20th November after marathon negotiations.
Considered to be 'the' African COP, it was the first time the conference was held on the continent since 2016, where it took place in Morocco, and only marks the 5th COP to be held in Africa since the process began in 1995.
The Africa-Europe Foundation (AEF) was present onsite with a rich programme of activities over the course of both weeks to underscore the importance of a shared approach to climate action between both continents and the need to scale up adaptation finance, accelerate access and the transition to sustainable energy, as well strengthening cooperation for oceans governance.
Framed as the COP of implementation and taking place one year before the first Global Stocktake in UAE, Dubai (COP28), stakes and expectations were high to fast-track the implementation of the Paris rulebook, accelerating climate action, closing the finance gap, restoring trust, and delivering on the announcements made at COP26 in Glasgow. COP27 was seen by developing countries, particularly in Africa, as a timely moment to focus on climate justice with common but differentiated responsibilities.
The AEF is committed to ensuring that three takeaways are addressed across the Africa-Europe partnership:
1. Scaling up adaptation finance and investing in knowledge sharing
Climate change should be seen as a strategy for survival for both continents, in doing so it is imperative to ensure an increase and doubling in financing towards adaptation and mitigation. Reducing bottlenecks for access to funding is crucial, encouraging the reform of the current global and regional financial architecture to channel and accelerate the filling of financing gaps. Supporting investment in joint knowledge sharing and actions for capacity building between Africa and Europe is key to this too, scientific data is needed to assess and map risk as well as attract investment.
2. Accelerating inter-continental cooperation for a sustainable and just energy transition
The AEF in partnership with Sustainable Energy for All held a closed-door Ministerial on Energy Day, in which both continents came together strategize on how to accelerate Africa's race towards a just and equitable energy transition. Urgency and finance are two major bottlenecks for decisive and transformative action, there was recognition by African and European Ministers of the importance of involving the private sector for the race towards energy access and to make progress towards an energy transition at the speed that is needed, in keeping with Agenda 2030 and Sustainable Development Goal 7. Several priorities and opportunities were outlined by ministers including addressing universal access to electricity and clean cooking, economic development and industrialization, establishing local value chains for renewables, and the use of critical minerals for low-carbon technologies.
3. Strengthening oceans governance
COP27 set a milestone through the establishment of Ocean and Climate Change dialogues and the recognition of ocean-based climate solutions. Africa and Europe are in a critical period for revisiting their respective strategies and cooperation on ocean. The ocean is our biggest ally in mitigating and adapting to climate change, but it's also bearing the brunt of the climate crisis. It is time for ocean to take centre stage in the global and Africa-Europe agenda.
The AEF also welcomes the breakthrough establishment of a fund for loss and damage, responding to the devastating impact of climate change on most vulnerable countries, all while giving particular attention to Africa.
COP27 represents a significant milestone towards building a close climate partnership between Africa and Europe. As such, there is a strong need to address the mismatch between the promises made at COP and the AU-EU Summit, and providing evidence of delivery of such commitments.
---
8th November-World Leaders Summit
11:00- 12:00 (EGY TIME) - EU Pavilion
High-level side event on Africa Day – 'Rolling out the Africa-EU Green Energy Initiative (AEGEI): Accelerating its implementation'
Jointly organised by AEF and the European Commission DG INTPA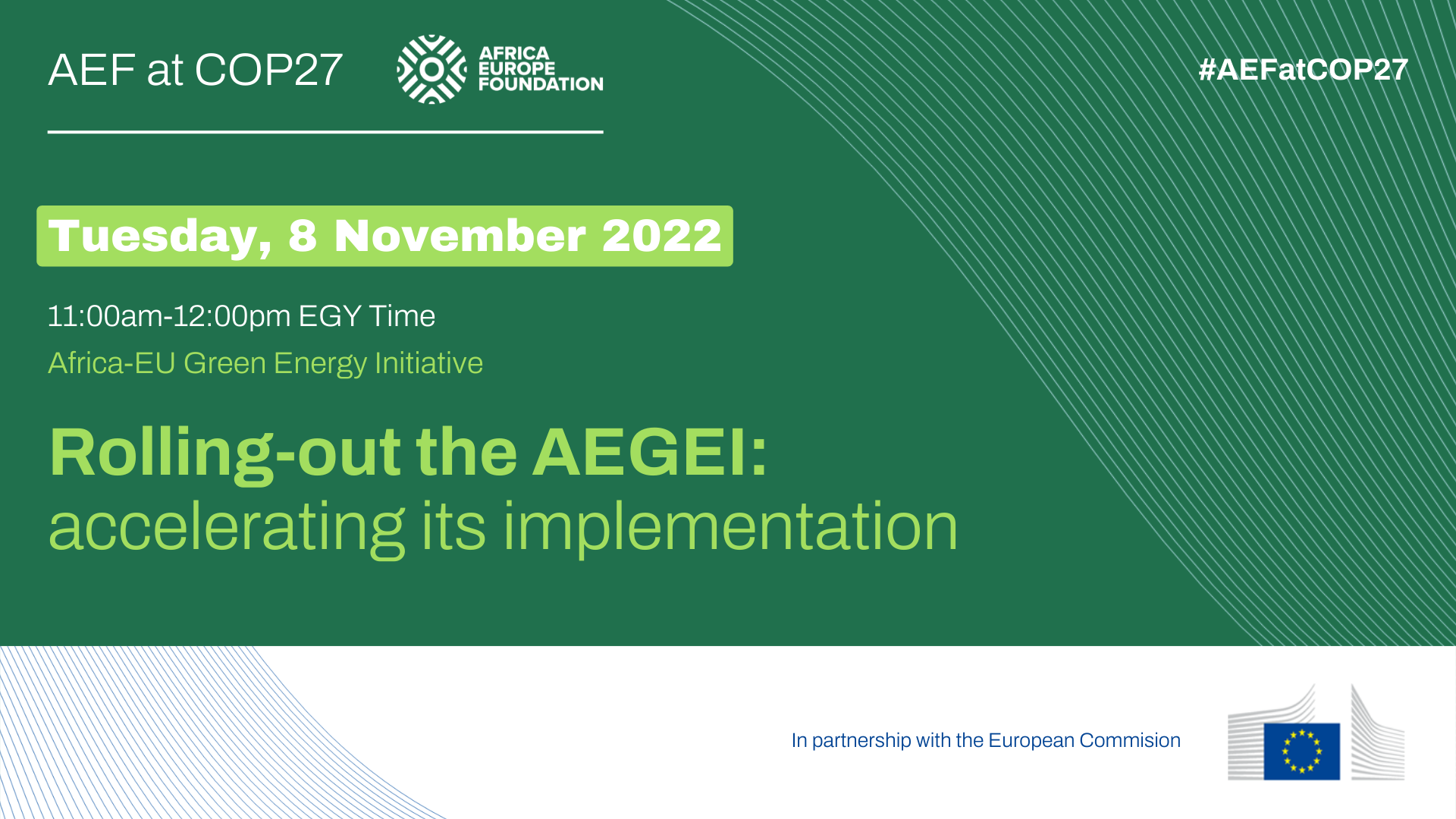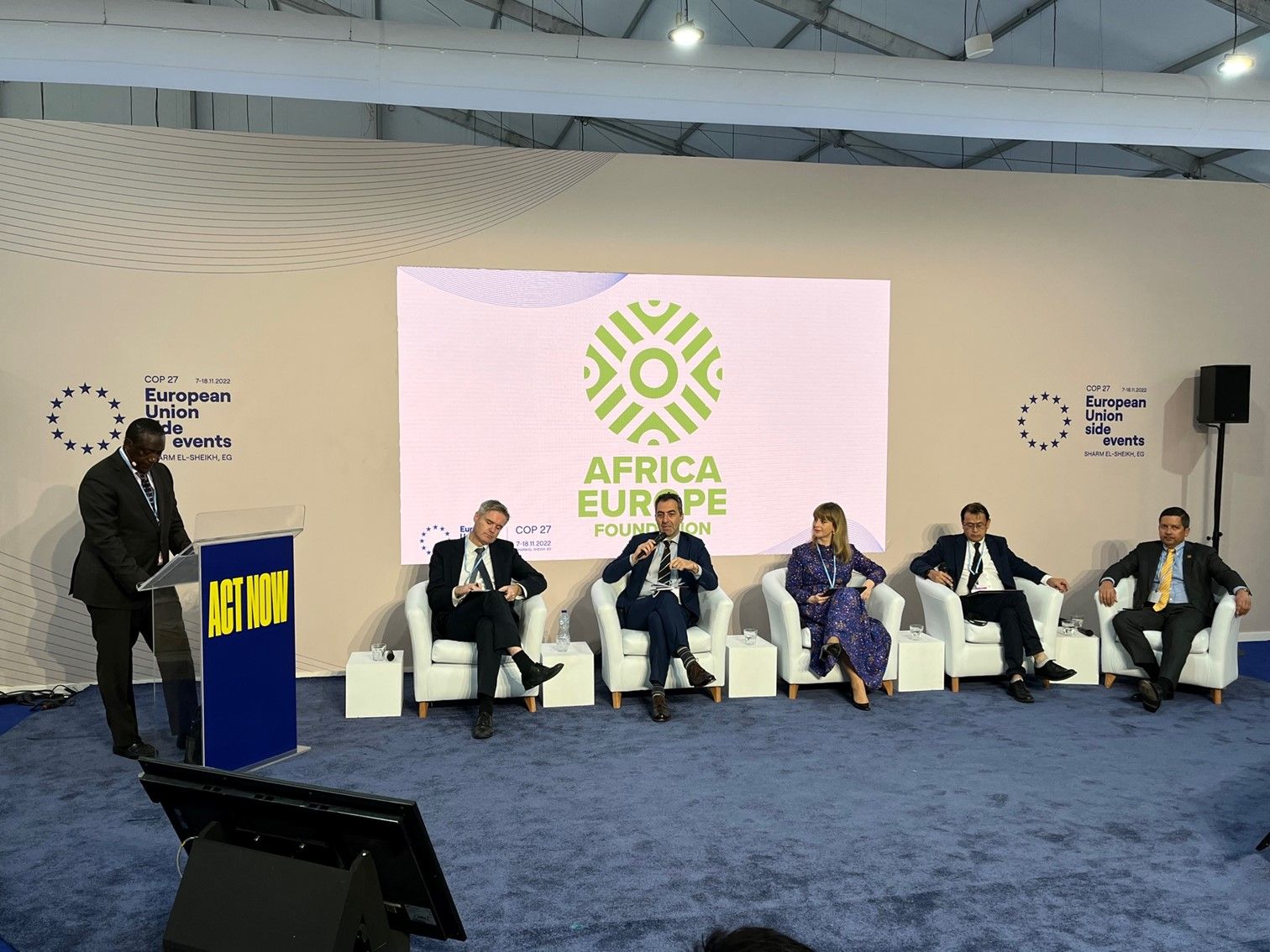 ---
9th November-Finance Day
16:00-17:00 (EGY TIME) – Africa Pavilion
High-level side event on 'Unlocking access to adaptation finance: Addressing capacity constraints and enhancing the Africa-Europe adaptation partnership'
Jointly organised by AEF with AUDA-NEPAD and the African Climate Foundation (ACF)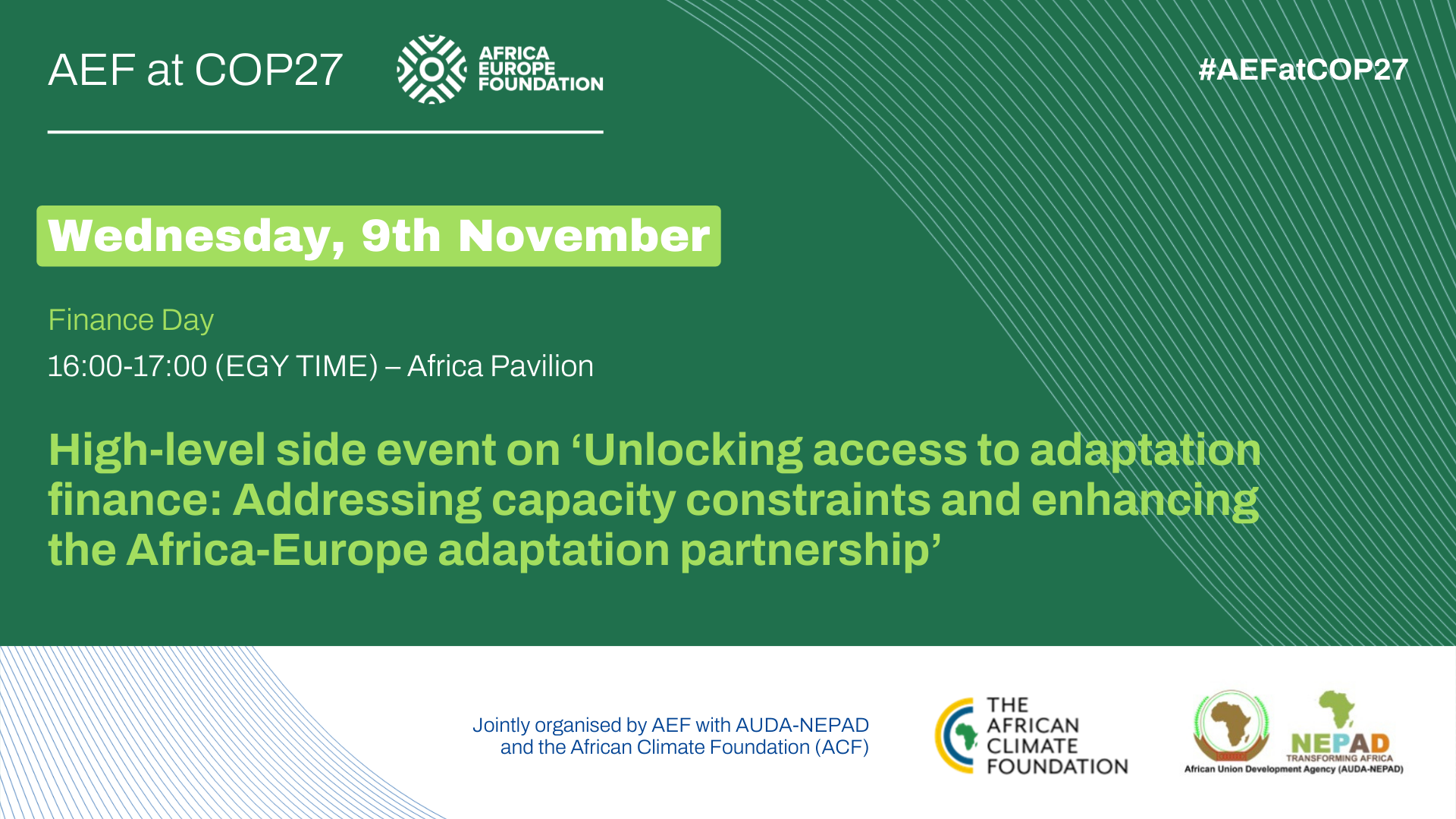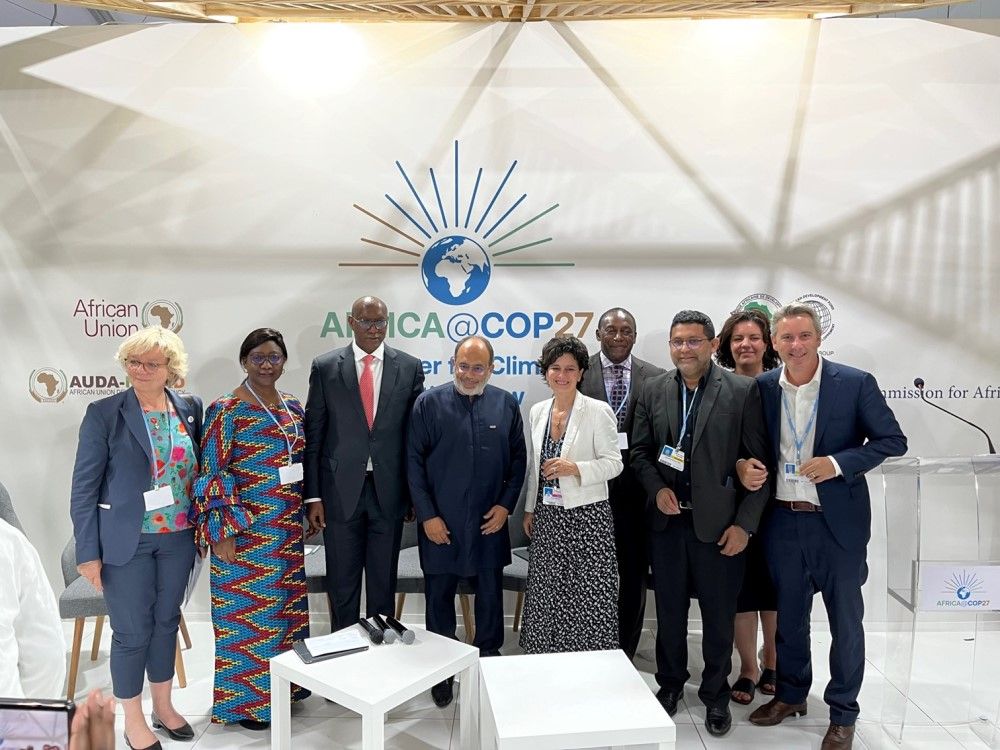 ---
10th November-Youth Day
11:30-12:30 (EGY TIME) – Climate Mobility Pavilion
Panel discussion entitled 'Build The Future: Voices of the Next Generation',
Hosted by UNOPS and joined by the AEF youth delegate who will speak at this side- event
12:15-13:00 (EGY TIME) – UK Pavilion
Panel discussion entitled 'Stronger together for the climate'
Hosted by the British Council and joined by the AEF youth delegate who will speak at this side-event
15:00-16:00 (EGY TIME) – Climate Mobility Pavilion
Empowering youth mobility in the face of climate change: A focus on Africa and Europe Hosted by the Climate Mobility Pavilion and joined by the AEF youth delegate who will speak at this side-event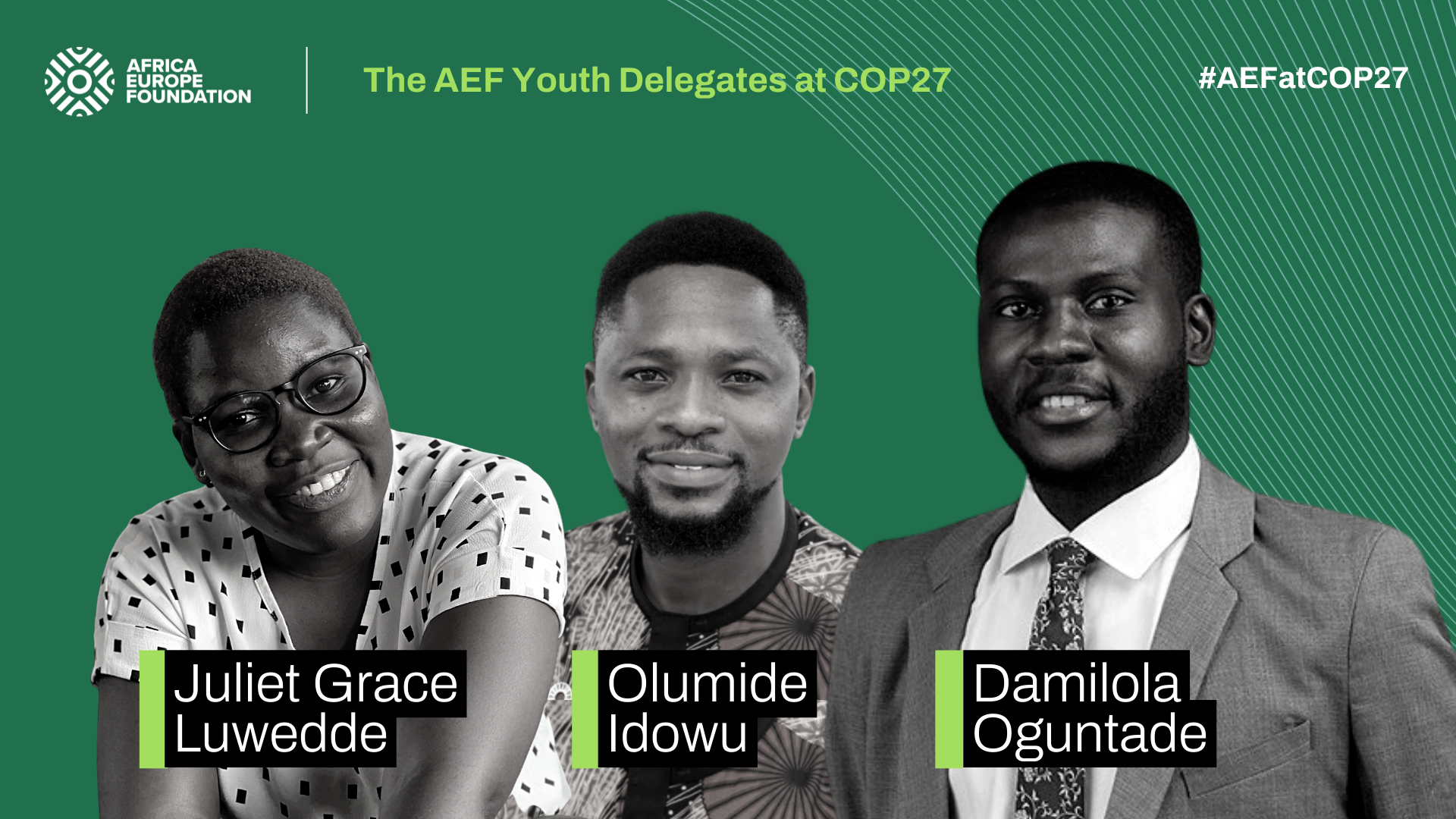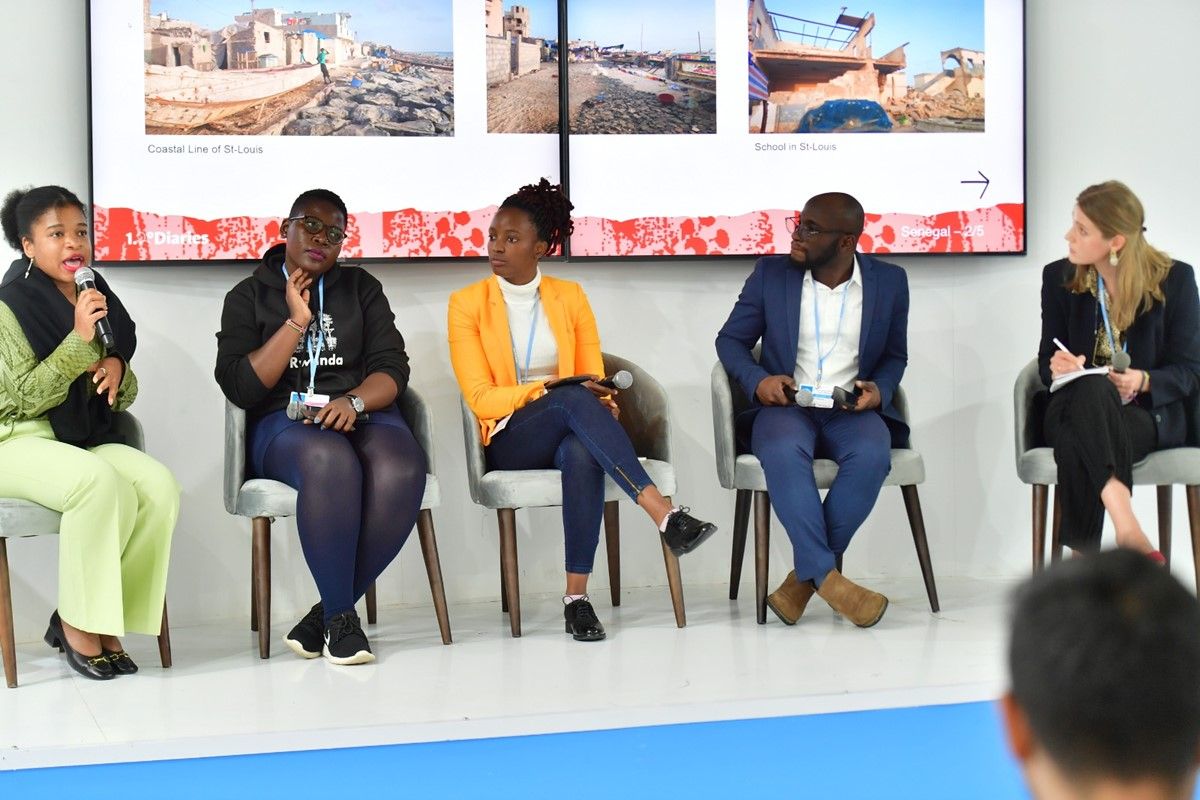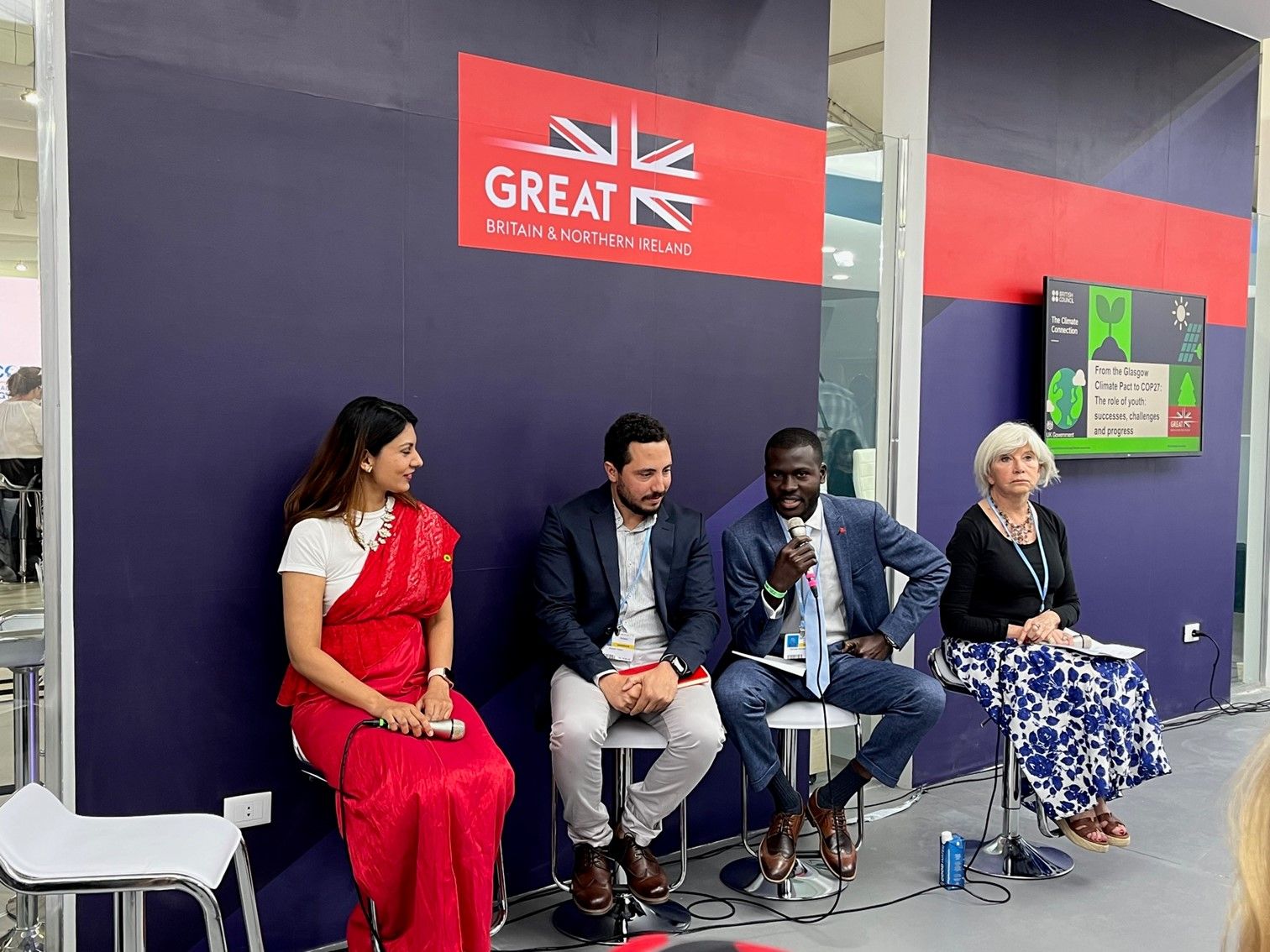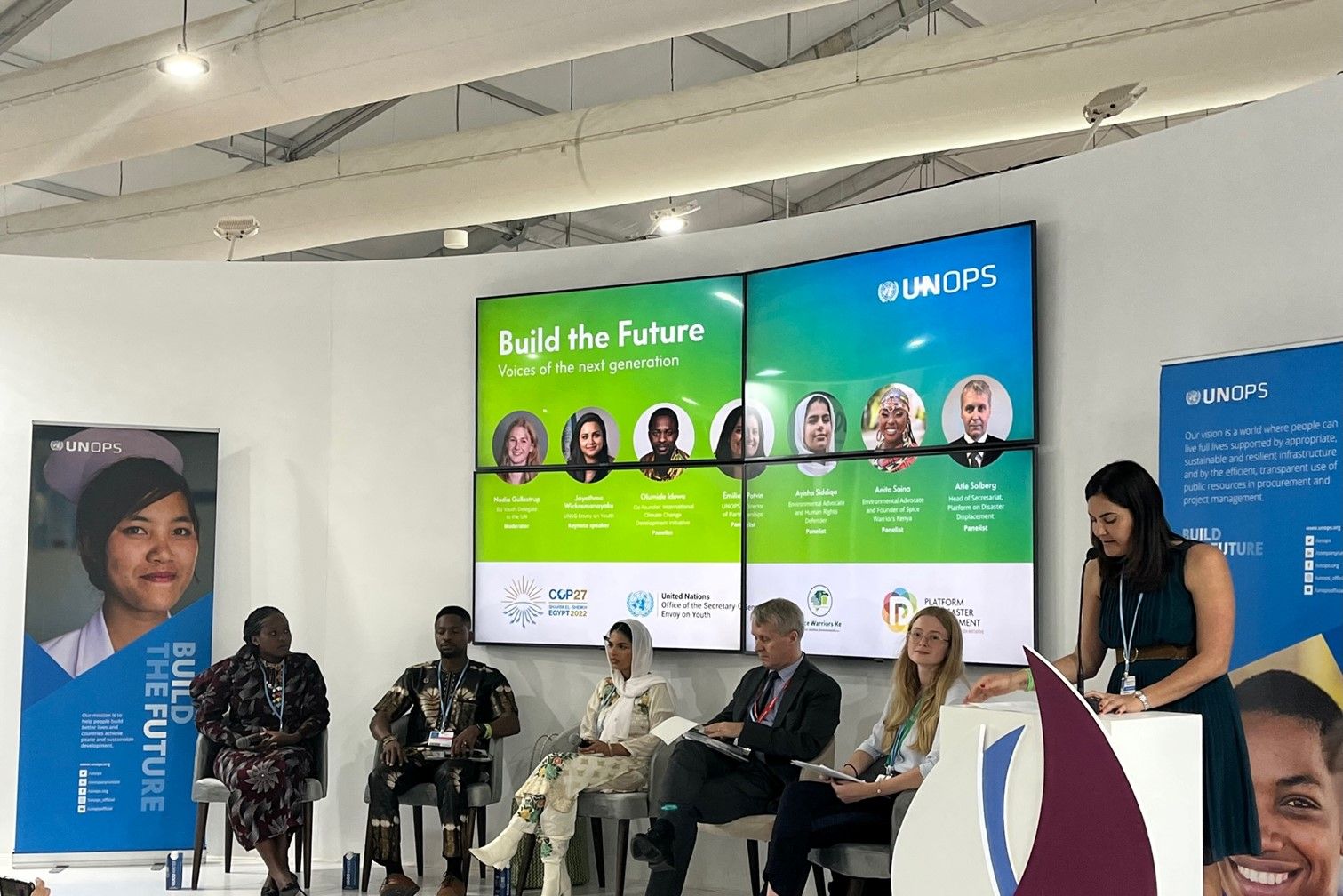 ---
15th November-Energy and ACE Day
17:00- 18:30 (EGY TIME) – SDG7 Pavilion
High-level closed door 'Africa-EU ministerial meeting on energy cooperation'
Jointly organised by the AEF and SEforAll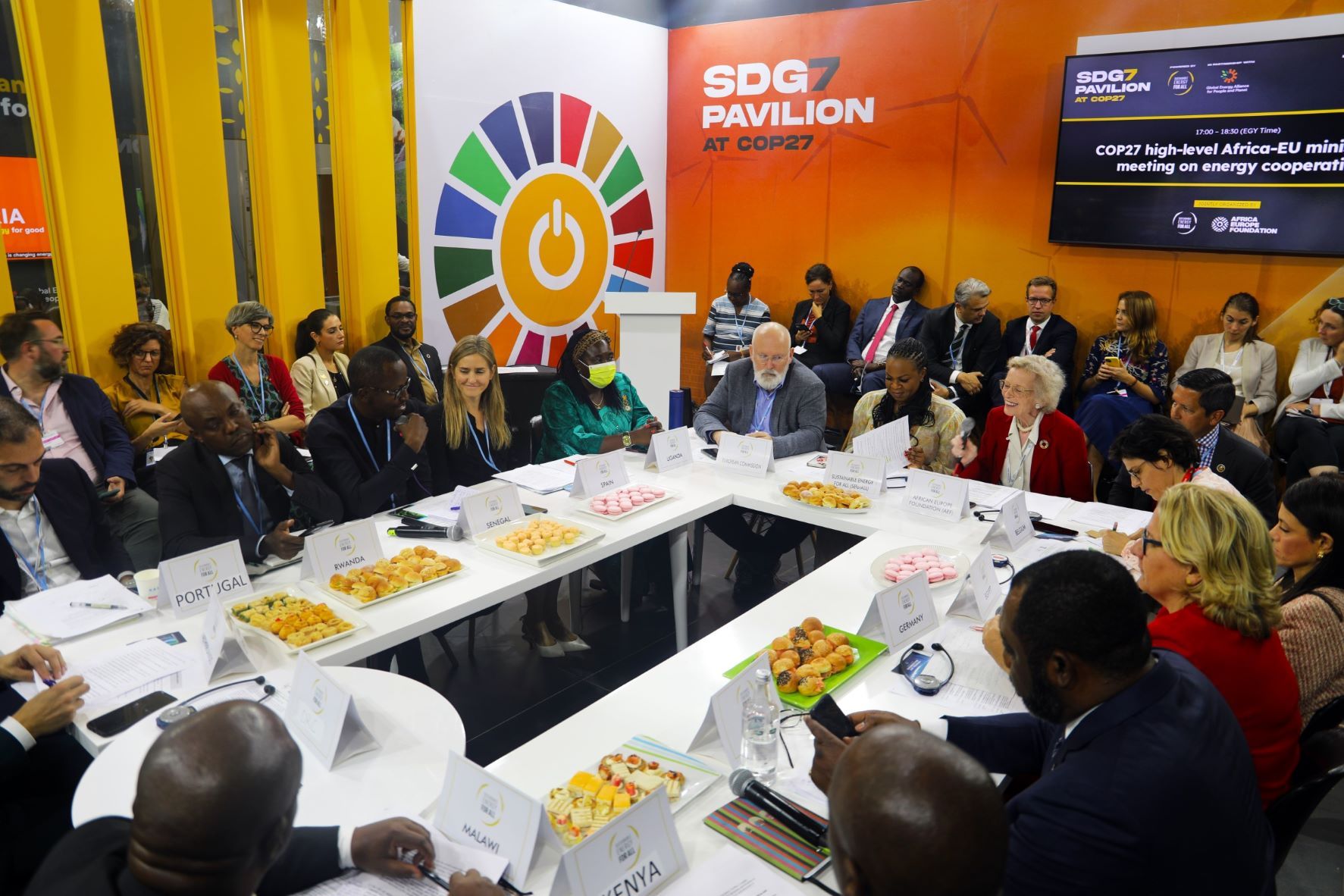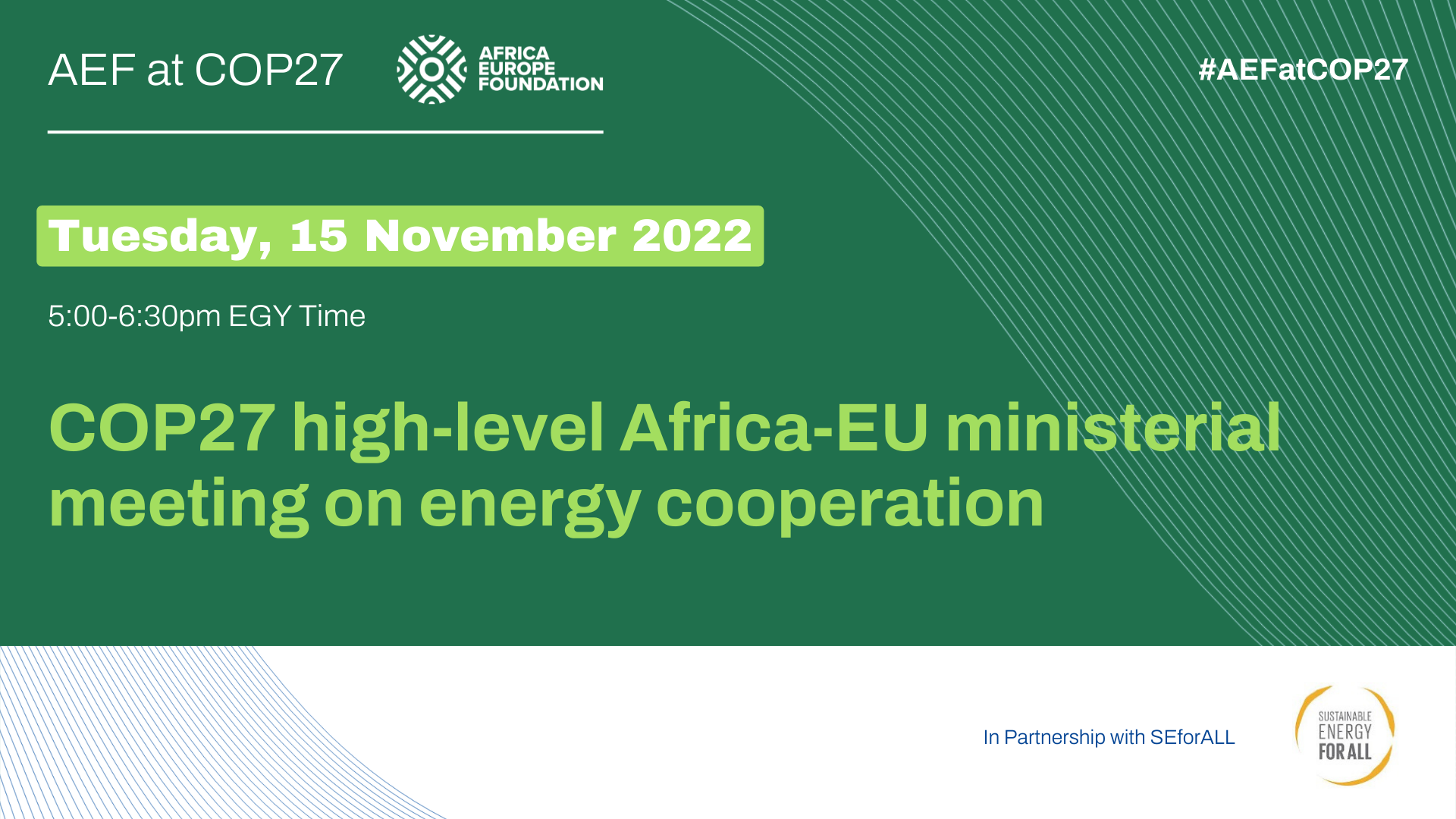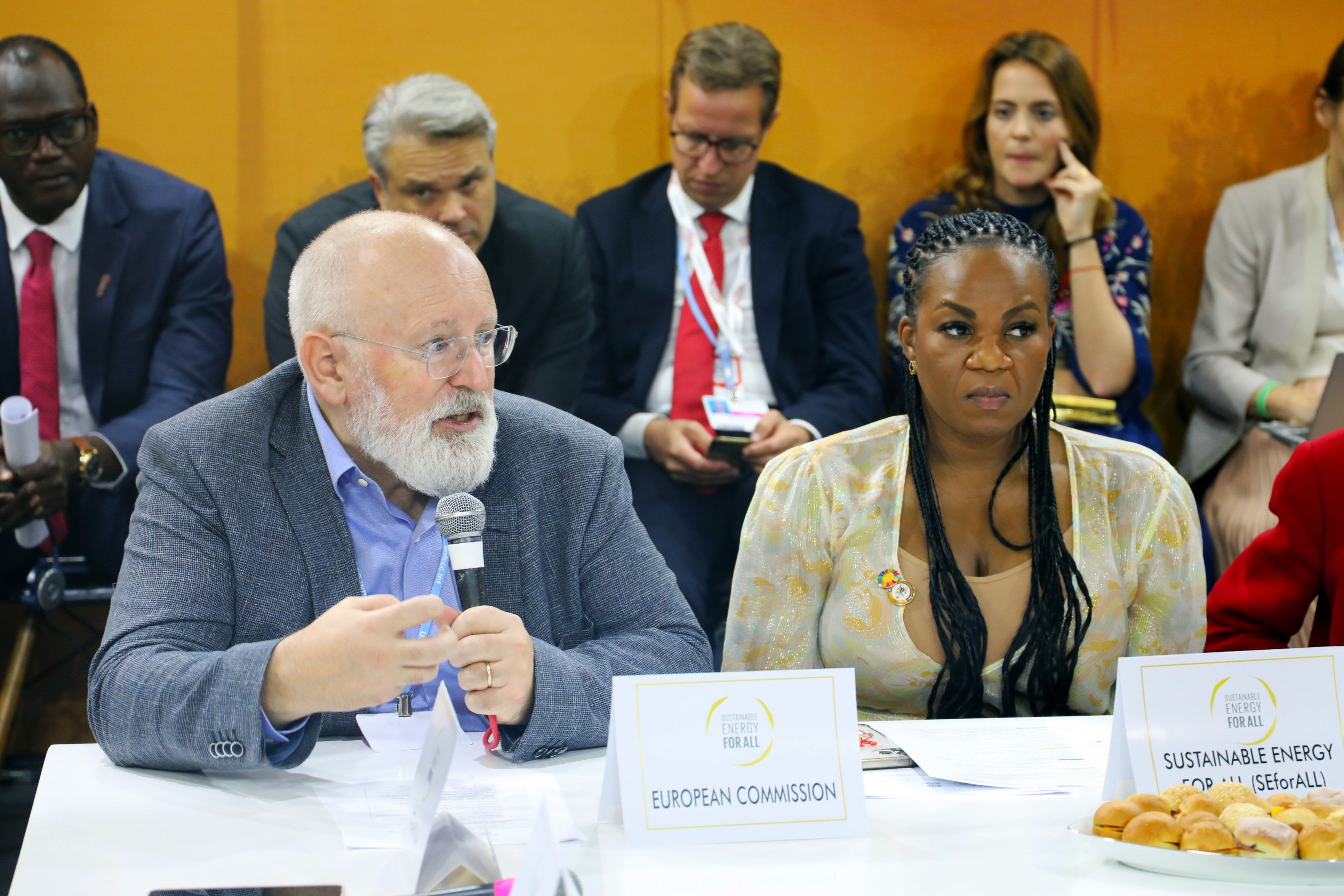 ---
16th November-Loss and Damage Day
17:30- 18:30 (EGY TIME) - EU Pavilion
High-level side event - Launch of the Team Europe Initiative on 'Climate Change Adaptation and Resilience in Africa'
Jointly organised by the AEF, the European Commission DG INPTA, and EU Members States including France, Germany, and Denmark.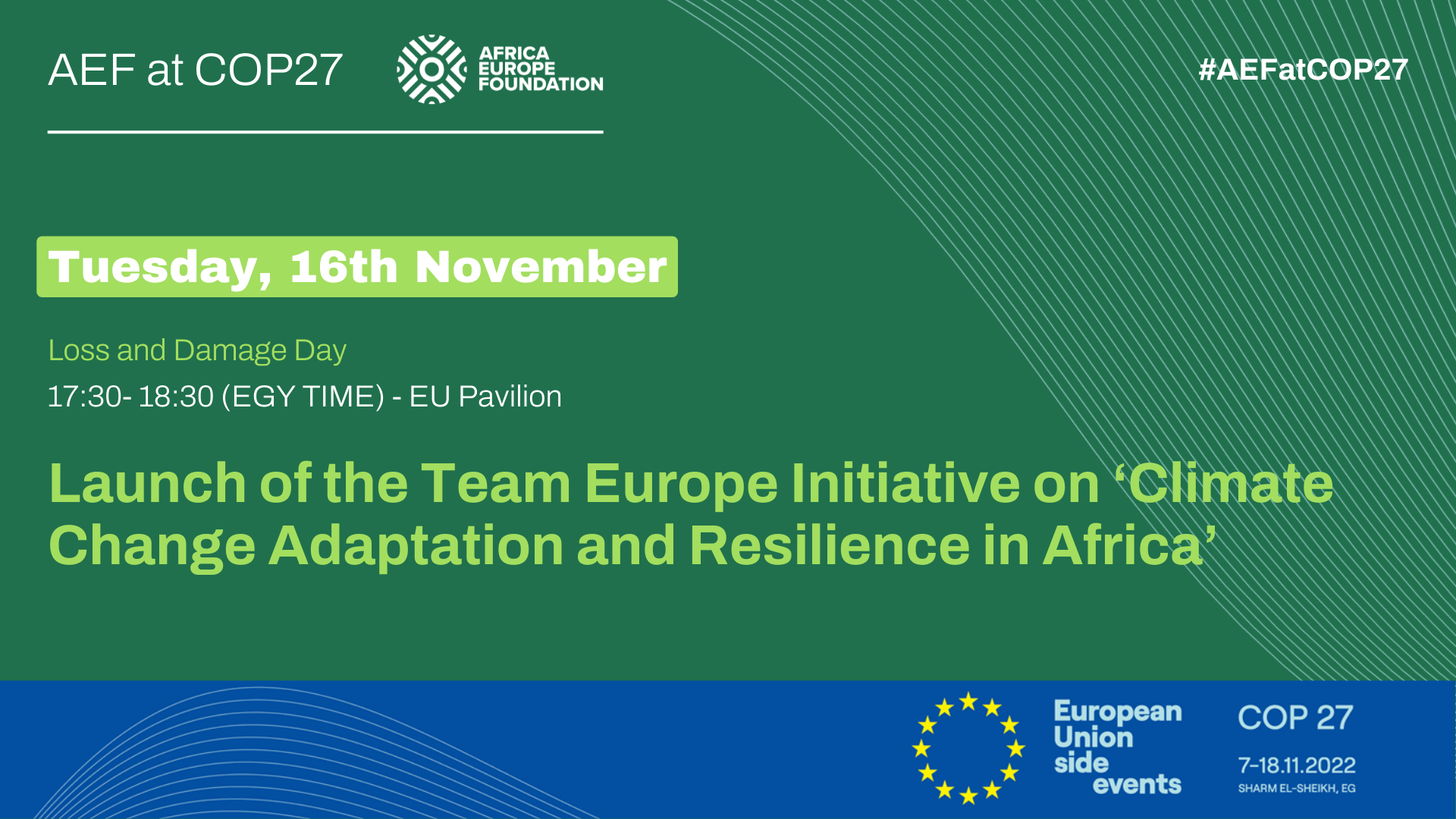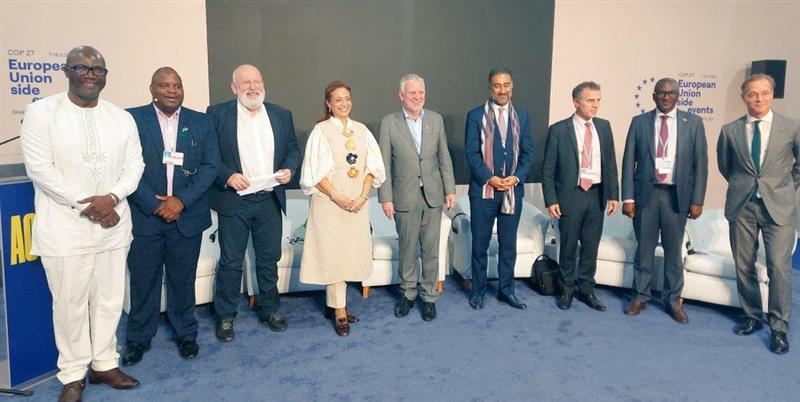 ---
17th November - Solutions day
Following much research, discussion and alignment with partners and experts, the Africa Europe Foundation unveiled the first cross-continental platform of its kind at COP27. This flagship initiative is emblematic of the Africa-Europe Foundation's drive to highlight and discuss critical yet underappreciated themes. Find out more by following the link on the left.