Ibrahim Governance Weekend
AEF at the Ibrahim Governance Weekend
The Africa-Europe Foundation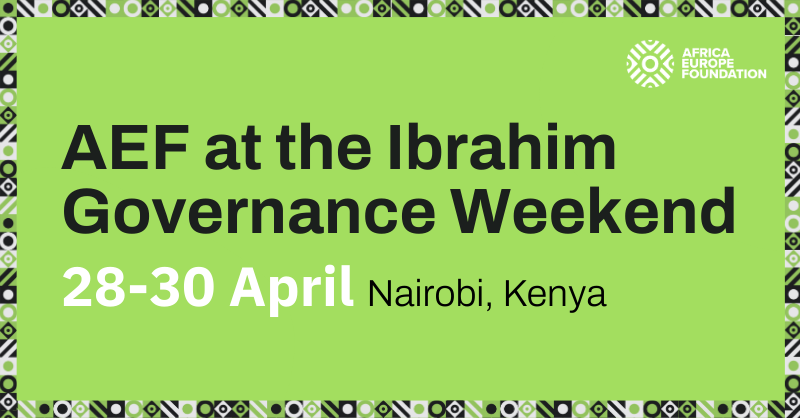 A key strategic objective of the Africa-Europe Foundation (AEF) is to contribute to "reframing and reinforcing the Africa-Europe partnership on the multi-lateral and regional stage". AEF is an independent multi-stakeholder platform and safe space for dialogue on complex issues of cross-continental and global relevance, bringing together citizens and leaders from all walks of life united by a passionate belief in a deeper partnership between Africa and Europe.
For the Ibrahim Governance Forum in 2023, AEF has a focus on a stronger Africa-Europe Partnership to catalyse cooperation from the redesign of financial systems to innovative partnership on ocean governance and blue economy, energy access and transitions, and reinforcing the potential of youth voice, agency and leadership to challenge misperceptions.
---
Programme at a Glance
The Africa-Europe Foundation's proposed programme combines meetings of high-level personalities from Africa and Europe (High-Level Group, Women Leaders Network) with dedicated sessions to areas of cooperation that hold promise for enhanced Africa-Europe cooperation.
---
Friday, 28 April, 12:00 – 14:00: High-Level Group of personalities meeting.
This represents the bi-annual meeting of the High-Level board of the AEF. This meeting will be focusing on the global governance redesign and will offer an opportunity for the co-chairs of strategy groups to provide updates on the areas of cooperation of the AEF. The meeting brings together high-level personalities from Africa and Europe, in addition to the co-chairs of AEF's strategy groups and the CEOs of partners affiliated to AEF's multi-annual programming (leading global foundations and regional institutions working across Africa and internationally). The HLG meeting takes place on the eve of the opening of the Ibrahim Governance Weekend.
Learn more about the AEF High-Level Group of Personalities here.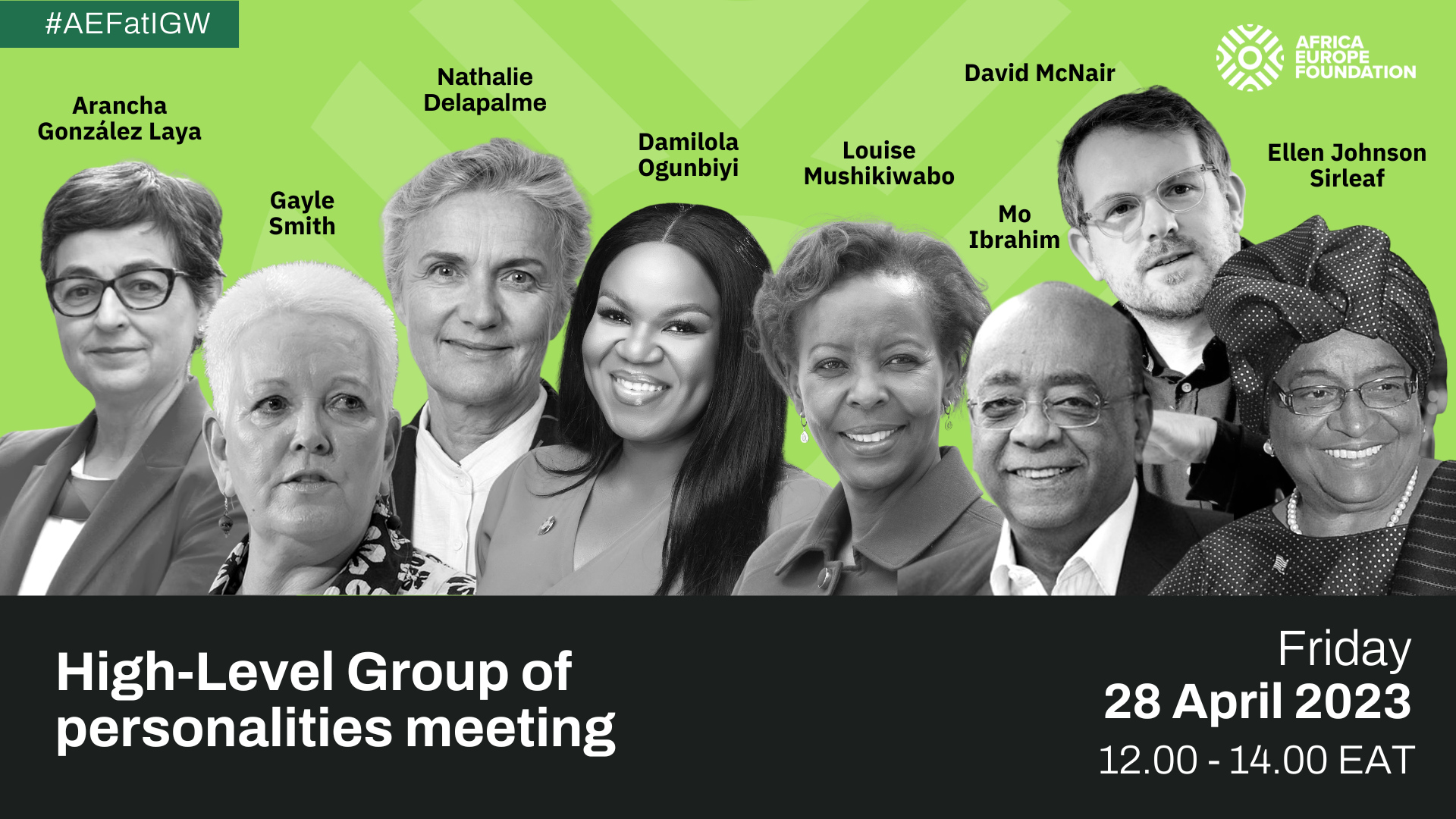 ---
Friday, 28 April, 14:30-16:00: High-level Dialogue on Blue Economy and Oceans Governance.
This high-level dialogue marks the launch of AEF's first cross-continental programme and Strategy Group on Ocean and Blue Economy. The high-level dialogue will address how political, technical and research cooperation can be enhanced on ocean and blue economy in the context of the Africa-Europe renewed partnership; how pockets of innovations on climate-related ocean action at the local, regional and continental level can be given the visibility they merit to enhance the Africa-Europe cooperation, and how the two continents can work closely to untap the opportunities that exist to meet the targets of SDG 14 ('Life below water') and SDG 13 ('Climate action') and advance the AU Agenda 2063?.
Download the detailed program here.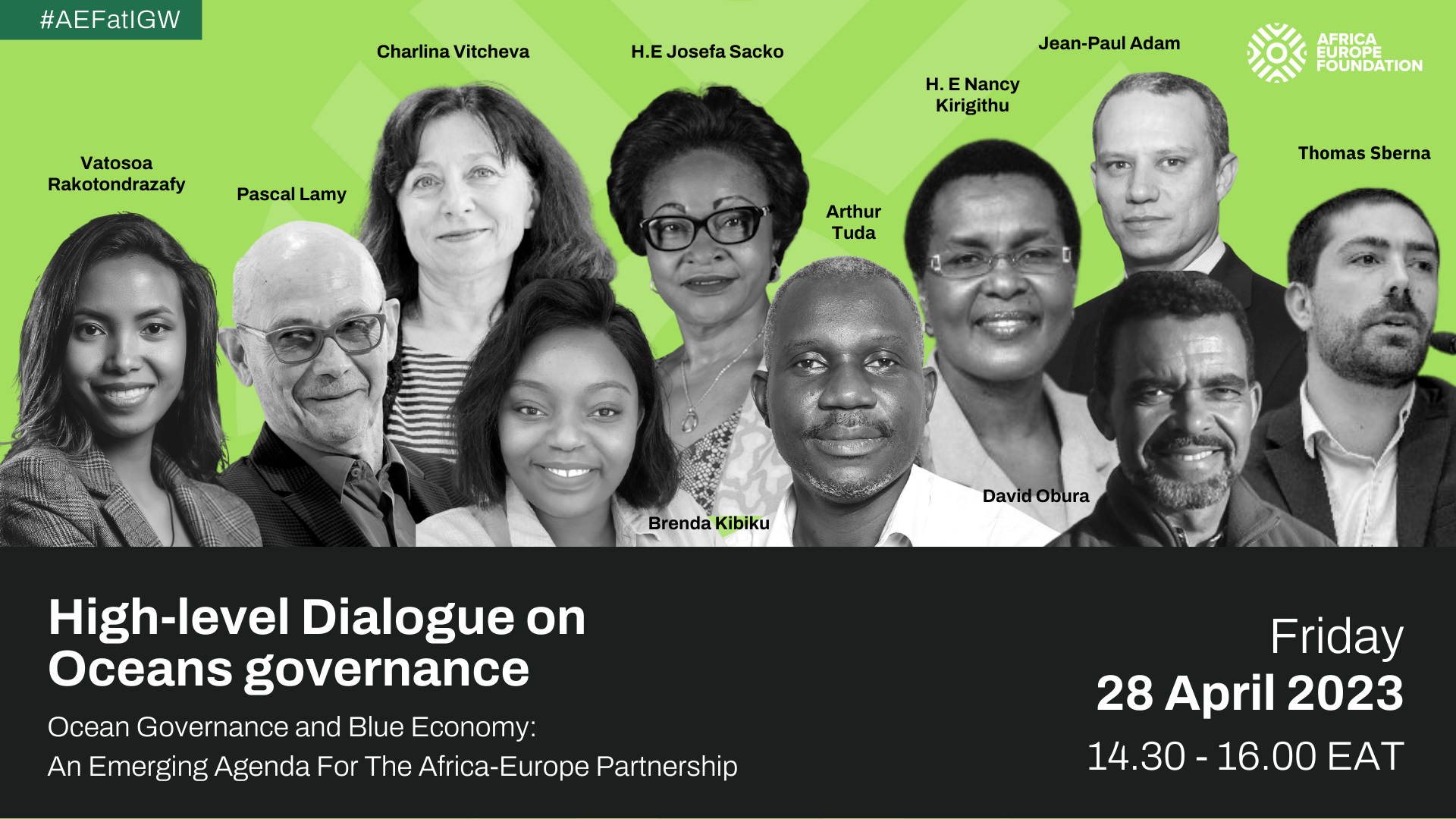 ---
Saturday, 29 April: Ibrahim Governance Forum on the theme of Global Africa and Strategic Meetings
AEF participation in the Ibrahim Forum on the theme of Global Africa, with AEF engagement in strategic sessions including the opening by H.E. Moussa Faki Mahamat, Chairperson of the African Union Commission, and participation in key panels including 'The World in Africa' with the EU as one of the key partners, and 'Africa's voice in the multilateral system' involving members of the AEF High-Level Group and Women Leaders Network as panellists. Working meetings with strategic partners will take place including the regional institutions and global foundations recently affiliated to AEF's triennial programming for 2023-25.
---
Sunday, 30 April, 07:30-09:00: Women Leaders' Network (WLN) Meeting.
Organised as a breakfast meeting, the AEF WLN meeting will focus on key areas of advocacy for members of the WLN to take forward on the global governance reform agenda, deep diving into the reform processes underway on the international financial systems and architecture including topics from climate finance to accelerating just energy transitions. A key reference document is the AEF background paper produced for the Africa-Europe High-Level Group of Personalities.
Co-chaired by Presidents Sirleaf and Robinson, the meeting will represent an important steppingstone towards a series of important milestones in 2023 among them the Paris Summit of June to be hosted by President Macron and Prime Minister Mottley, the African Climate Action Summit to take place in Kenya in early September and COP28 in UAE in early December.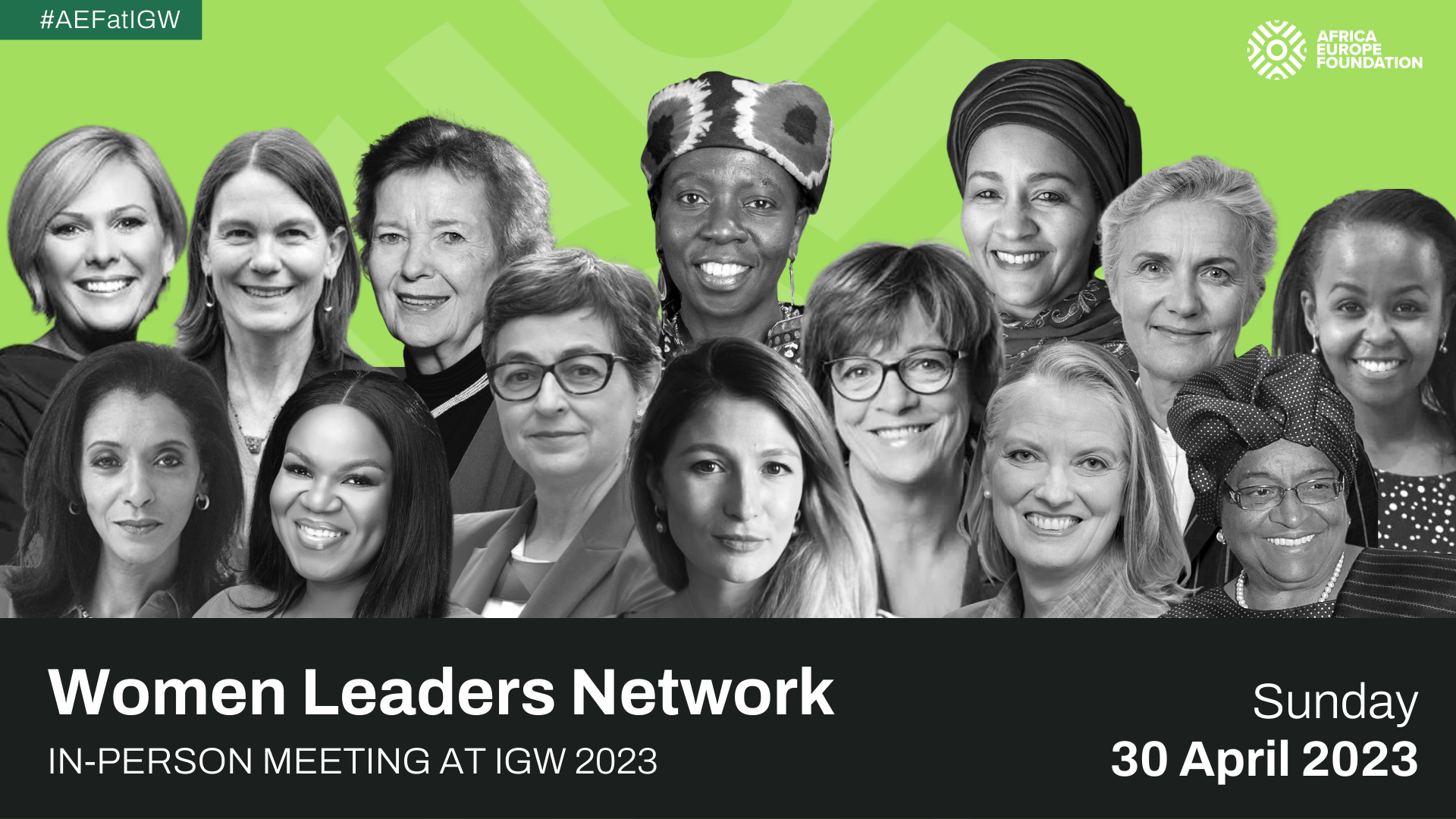 ---
Sunday, 30 April, 9:00-10:00: Earth shot B-team event
The Africa-Europe Earthshot is a multi-stakeholder co-design, co-creation, and co-delivery process that seeks to identify and accelerate pathways to unlock finance and improve the investment climate for Africa's just transition.
By bringing together a diverse community of experts for a series of strategic convenings between April - December 2023, in alignment with global geopolitical opportunities to advance the agenda, the Earthshot will mobilize a groundswell of support for action on a set of priority opportunity areas in order to streamline activity rather than duplicate or undermine existing initiatives.
---
Sunday, 30 April, 11:00-12:00: Launch of the AEF Carbon Markets Working Group
As part of the Ibrahim Governance Weekend, the Africa-Europe Foundation is establishment a new Africa-Europe Working Group on Carbon Markets. It will complement existing dialogue platforms and strategy groups and provide a space for leading experts from across Africa and Europe to share insights and make recommendations to enhance the cross-continental partnership.
Strategic questions to be addressed include: How can Africa and Europe work jointly on carbon markets (compliance and voluntary) for the benefit of Europe's decarbonization and Africa's structural transformation, while ensuring the preservation of the natural environment?
---
Sunday, 30 April, 13:30-14:30: Talking Africa-Europe Special with Young Leaders from Africa and Europe
This Talking Africa-Europe Special with youth will focus on exposing the prevailing misperceptions which need to be addressed for any prospect of a strengthened Africa-Europe Partnership, and the priority actions.
The special dialogue will draw on an aggregation of data on perceptions and interests among young people across and between the societies of Africa and Europe and explore strategies for a mutually beneficial future. It will look at components that have previously posed a challenge to the partnership between the two continents and outline the terms of just cooperation shaped by inclusive, co-created narratives, and how to open up space for youth voice, agency and leadership to drive a new chapter of Africa-Europe relations.
Download the Now Narratives concept note here