Ocean Governance & Blue Economy

Youth
How Can We Realize the Potential of the Blue Economy and Preserve the Ocean for Future Generations?
The Africa-Europe Foundation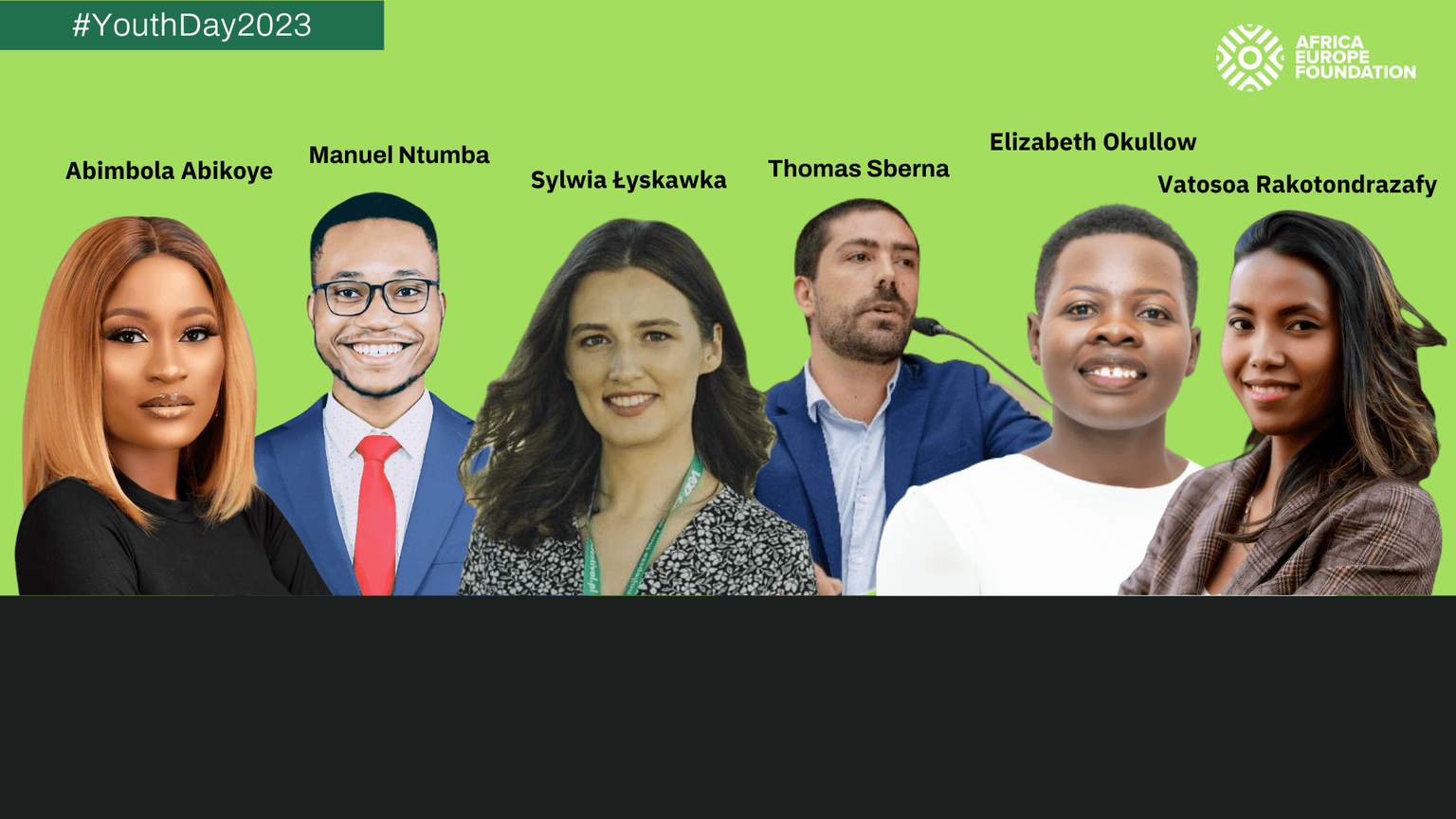 The ocean presents such opportunities for global economic growth and human development that the African Union dubbed it the 'new frontier of African renaissance.' Yet the body of water covering more than 70% of the Earth is in its worst condition ever, placing its role as the mainstay of the planet's health and balance in peril.
The second World Ocean Assessment (2021) warned that the benefits of the ocean are increasingly undermined by human activities, which continue to degrade the ocean and destroy essential habitats such as mangrove forests and coral reefs. At the same time, sea level rise is threatening the world's coastlines. Experts say the answer is an integrated sustainable management of coasts and the ocean.
So, how can Africa and Europe work together to harness the enormous potential of the ocean and preserve it for future generations? What's more, can the blue economy, which seeks to balance environmental sustainability, economic growth, and social equity, offer equal dividends in benefit and protection?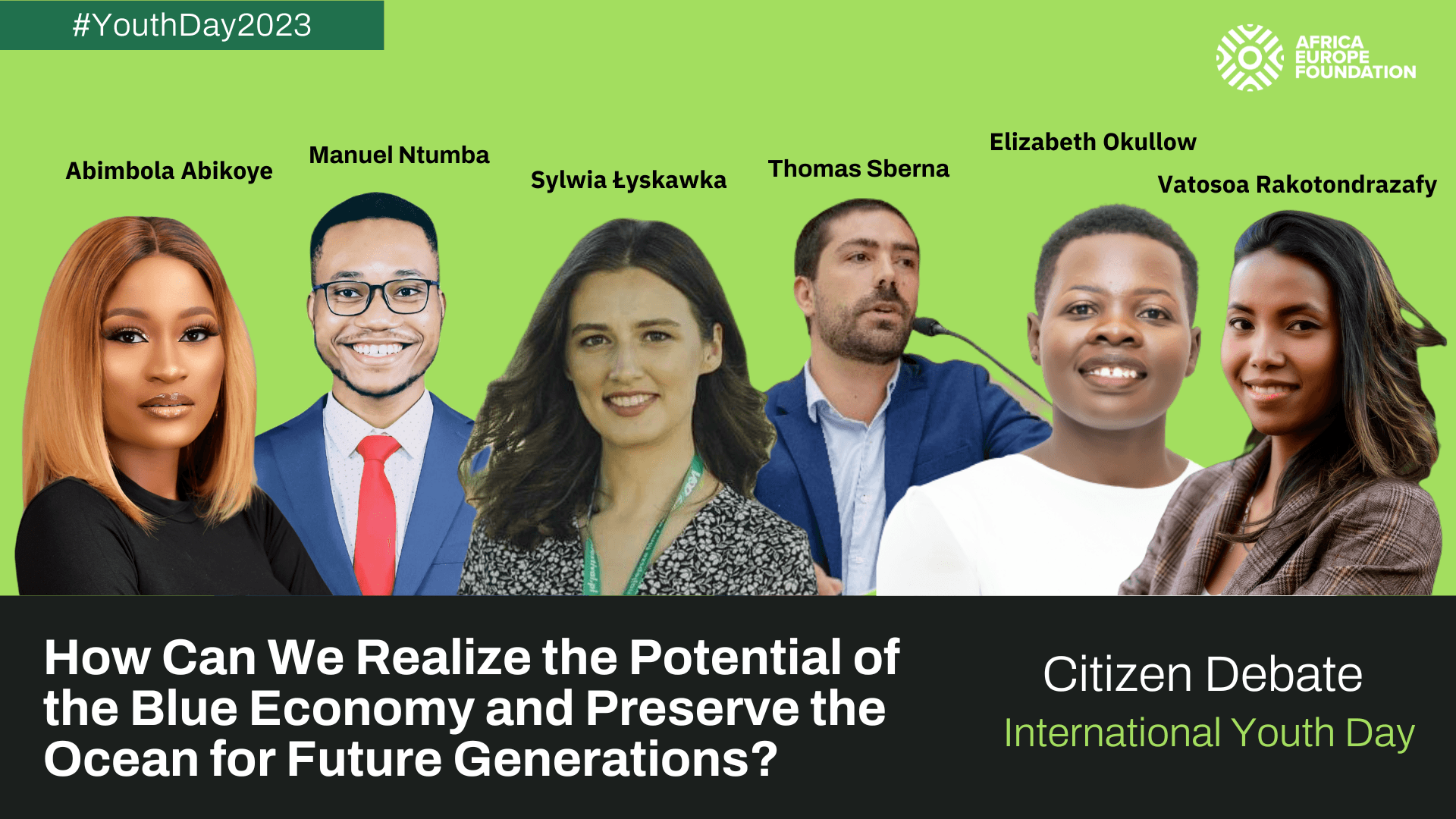 This International Youth Day, we called upon young leaders from Africa and Europe to discuss the blue economy and share ideas for the sustainable use of the ocean. These four citizens have turned their passion for climate, community, and coasts into action. Find out what they told Thomas Sberna, the AEF's Senior Fellow for Ocean Governance, below:
---
Elizabeth Okullow
As the Co-founder and CEO of AquaMnara, Elizabeth is revolutionizing aquaculture for small-scale fish farmers. Her passion lies in empowering farmers with real-time water quality monitoring and comprehensive aquaculture solutions. Noteworthy accolades include being awarded the NextGen Accelerator Fellow by Harvard Innovation Labs in 2023, Women in Ecopreneurship by U.S Embassy through TechCamp 2023, the TECA Fellowship in 2022, the Mandela Washington Fellowship in 2021, and earning the Top Fellow title at Africa YES 2020.
With a strong interest in sustainable aquaculture and technology, Elizabeth envisions a world where fish farming is simple and profitable, benefitting both farmers and the environment. She holds a Bachelor's degree in Microbiology from Karatina University and is pursuing an MSc. in Management and Organizational Development at the United States International University.
---
Sylwia Łyskawka
Sylwia led the Youth Climate Council advising Poland's Minister of Climate and Environment from 2021 to 2022. She is a member of the National Development Council – Council on Youth Affairs at the Chancellery of the President of Poland. Her professional focus centers on offshore wind energy and its effects on the environment and local communities.
Recognized as an EU Young Ocean Advocate, she holds a first-class master's degree in Hydrology from King's College London and a bachelor's in Marine Biology and Oceanography from the University of Southampton. She is an author of popular science writings addressing Poland's water crisis and the impact of youth climate movements on climate education and civic engagement.
---
Abimbola Abikoye
An environmental justice and campaign consultant, Abimbola is the founder of Revamp Rave Network and the National Consultant for UNODC Nigeria, where she supports efforts to combat wildlife crime, working towards achieving ICCWC goals for protecting and conserving wildlife biodiversity.
Through her non-profit organization dedicated to redefining climate education, environmental advocacy, and mobilizing coastal communities for climate action, she's implemented a climate college hub that has successfully trained 800 youths, forming strategic partnerships with 30 organizations that lead on climate innovation. Notably, she is the author of a book on environmental knowledge titled "Ecolog," and curated the first Coastal Rural Women Conference on Climate Change, mobilizing 250 women and persons with disabilities to promote ocean literacy and policy inclusion for frontline communities.
---
Manuel Ntumba
Manuel is a Congolese-Togolese inventor, advisor, geostrategist, and geospatial expert. He was recently elected as Chair of the African Union (AU) Youth Advisory Board on Disaster Risk Reduction (AYAB/DRR). He is the founder of the global public-private partnership, Tod'Aérs Global Network (TGN), and a member of the Diplomatic Delegation of Togo to the United Nations Committee on Global Geospatial Information Management [UN-GGIM] within UN ECOSOC. In January 2023, he was recognized by Forbes África Lusófona as "The Young Diplomat Revolutionizing the Use of Geospatial Data in Africa."
Manuel also works as a Consultant for Airbus Intelligence and was recently selected as an ELCA Fellow - "Emerging Leaders for Climate Action" - by the UAE Embassy in Washington, DC. In 2021, he worked as an Advisor on space affairs and geospatial intelligence to the African Union Presidential Panel of 2021. He holds a Master of Business Administration in Governance and International Economics from Porto Business School (Portugal). He is also a Young African Leaders Initiative (YALI) alumni in Public Policy and Management.
---
Vatosoa Rakotondrazafy
A passionate advocate for small-scale fishers, Vatosoa served as the National Coordinator of MIHARI - Madagascar's Locally Managed Marine Areas (LMMA) Network for six years and was elected President of its board in November 2020. She won the Whitley Award in 2019 for successfully defending the rights of Madagascar's small-scale fishers and strengthening their capacity to manage their resources.
In 2021, she was named in the African Wildlife Foundation's Top 100 Young African Conservation Leaders list and has put her coordination skills at the service of the Malagasy think-tank INDRI with the task of building on existing conservation knowledge to safeguard Madagascar's unique marine and terrestrial biodiversity. She is now the founder and the CEO of BEOLOBE, Madagascar's first platform that brings together the island's community-led conservation initiatives, both marine and terrestrial, and aims to mobilize investments and resources to prioritize Indigenous and local communities' well-being and their guardianship of natural resources.